Glade Park & Pinon Mesa
Marketplace
Commerce by and/or for Glade Parkers!
FREE Listing for Glade Park Residents!
Glade Park Friendly Businesses: 3 months free when recommended by a Glade Park resident!
Scroll to bottom for more listings.
New listings are posted on Ear to the Ground Glade Park Blog, to let people know you are here.
☺ Glade Park resident
♥Glade Park friendly business
Please let these businesses know that you found them on Glade Park.com!
Services:
☺Carns, Dennis - Ute Excavating

☺Carr, Jay & Trish , & Jeff Gracie - ABC Mechanical

☺Grose, Lynn - Realtor, Chesnick Realty
"As a way of giving back to the community that I call home, I will donate a minimum of $100.00 to the Glade Park Volunteer Fire Department for every transaction I handle. So if you are thinking of selling or know someone wanting a Glade Park, or Little Park home, give me a call. I look forward to helping you in your next real estate transaction." --Lynn Grose, Realtor

☺Healey, Cliff - Overall Home Improvement

Debra J Pace - Cherry Creek Mortgage

☺Pace, Gerald - Pace Handyman Services

☺Ricks, Theresa - Treasures By TnT

☺Reese, Travis - Organic Earthworks Design

☺Tait , Hal & Wendy - Western Slope Seamless Gutter


♥V & L Appliance Service 970-243-3360
591 25 Rd., Suite A-6, Grand Junction, CO
Factory authorized appliance repair. "He came equipped with the parts he was likely to need for my appliances, and they were the right ones. All taken care of in one trip for a reasonable price!" --Deb Moorland


Do you need a website for your local business?
glade-park.com became possible when I found Site Build It! I do not know HTML programming, and had no idea how to build a website. Even if you know HTML, you can start with the knowledge you have, and they fill in the rest. Click on the Site Build It! link below (CLICK ON BANNER) and learn how you can make it happen: inexpensively, with wonderful tutorials and support. If you decide to sign up, I would greatly appreciate your doing so through a link on this website, as it will help finance this venture! Look it over!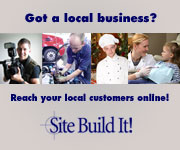 Have you been thinking seriously about Sight Build It!, but you need some questions answered first? You are at the right place!


GET YOUR SBI! QUESTIONS ANSWERED!



---
Join the Glade Park Marketplace!
This is where you can submit your advertisement to the Glade Park Marketplace. Just follow the directions and create your own web page on glade-park.com!
Visitor comments and recommendations
Click below to see comments from Marketplace customers...
---
Support the community and promote your business: