Glade Park & Pinon Mesa
2018 Community Events Calendar
Saturday, August 4, 2018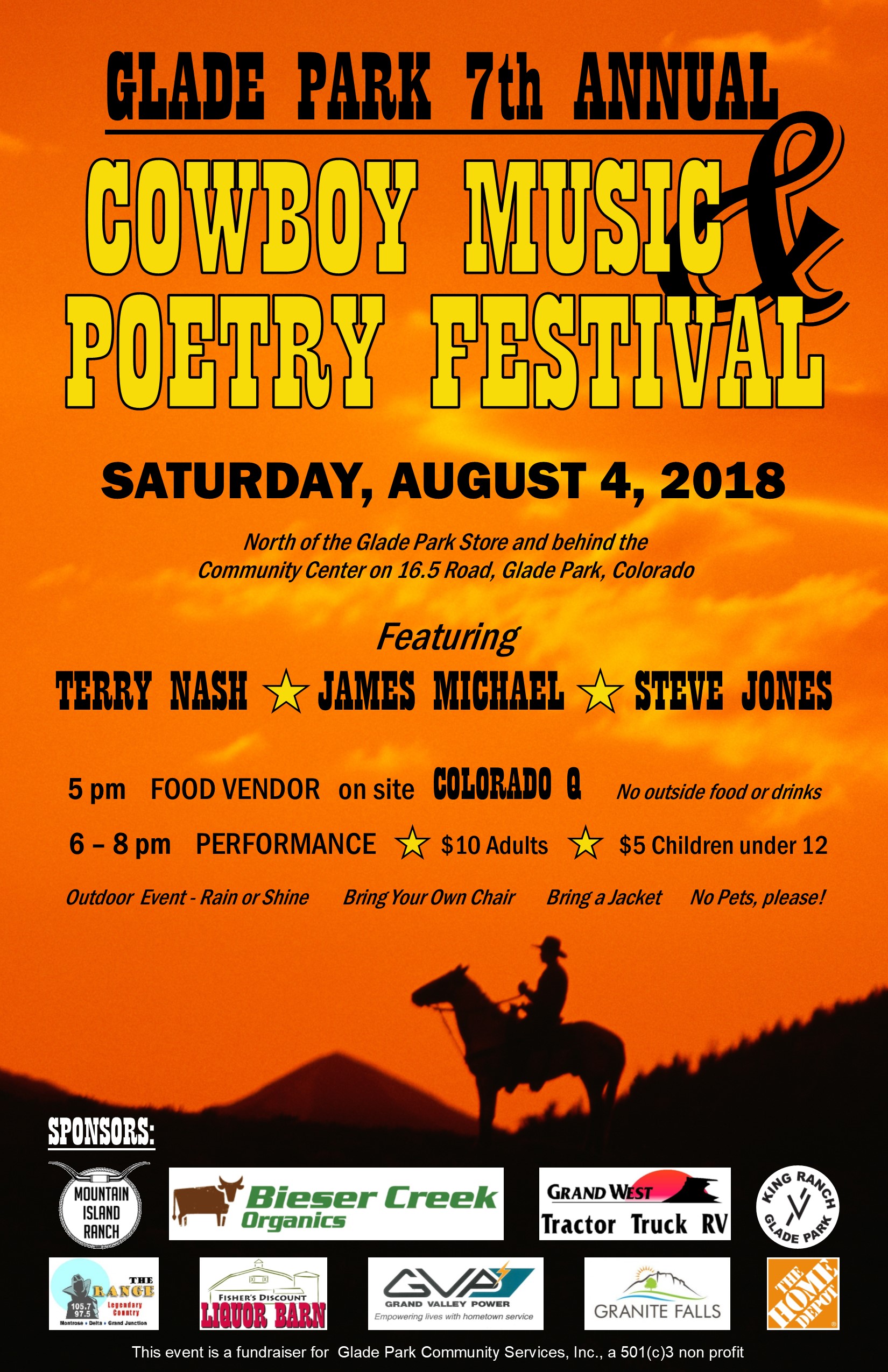 Cowboy Poetry & Music Festival
Contact: Jeremy Carns  970-245-2288

Saturday, September 15
Glade Park Community Days
For more information on this and other events:
---
Standing events
GPVFD Movies Under the Stars
Fund raiser for Glade Park Volunteer Fire Department

Fridays from June thru August

If you or your business would like to be a sponsor for one of the movies (it will be featured on the poster, fliers and other publicity for Movies Under the Stars), and will serve a great cause.
Contact info: GPMoviesUnderTheStars@gmail.com
For information and current schedule:
http://www.glade-park.com/movies-under-the-stars.html

 Saturday Coffee Group

First Friday of the month @ 9 a.m. - 11 am  at Glade Park Community Building
All are welcome.

For information Maxine Taylor  970-683-1245

Games and Activities Group
Time: Noon to 3:00 PM
Second and fourth Thursdays
Place: Glade Park Community Services Building

Do you enjoy card games like hearts, canasta, spades, or board games like Rummikub, Parcheesi, Scrabble and King Oil? How about dominos? A $2.00 donation is requested per meeting.

If there is enough interest an evening time may be added.
Contact: Joyce Owens - 970-257-9693

Crafters Group
Time: Noon to 300 PM

First and third Thursdays

Place: Glade Park Community Services Building
For information: Jill Pellizzari  970-257-9693

Book Barn Lending Library

Glade Park Community Building
Borrow books, donate books.

Saturdays, 9 AM to 3 pm

Thursdays, noon to 3 pm

Place: Glade Park Community Services Building

Hiking Buddies

Meets every Tuesday, weather permitting.
Information: Roger Dingman 970-263-4803

Church Service

Every Sunday at 10 am at the GPCS Community Building
Every second Sunday the music is geared toward the children with a potluck following the service.
Pastor Paul Lehman  970-628-6119
Rental of Community Center

The Glade Park Community Center was formerly Pipeline School House and is listed in the National Register of Historic Places. It is available for rental  for weddings, reunions, parties, meetings or other events. 
Cost is $60 for dues paying members of Glade Park Community Services, and $100 for non-members and organizations.
Contact Dena at 970-241-0775 or gladeparkd@gmail.com for reservations.

---
Do you have a community event to add, or need more information about an event?
---