Gaining weight and health problems?
It's not just about looking good.
Once in a while something comes along that is a game changer...


---
Glade Park & Pinon Mesa
2015 Community Events Calendar
June 4, Saturday
5th Annual GPCS Cowboy Poetry & Music Festival

Gate opens at 5 pm - Show begins at 6 pm
Glade Park Community Building

Food by Dave's Rib Shack
No outside food please.

See poster for details

ROGER DINGMAN
GPCS President, 2016

Roger Dingman (h) 263-4803 dingmanr@aol.com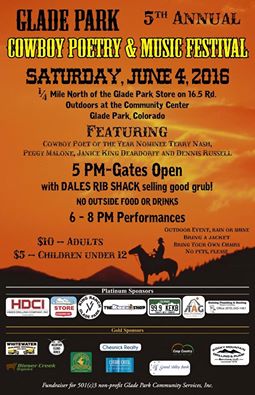 ---
Standing events
GPVFD Movies Under the Stars
Fund raiser for Glade Park Volunteer Fire Department

Fridays from June thru August

If you or your business would like to be a sponsor for one of the movies (it will be featured on the poster, fliers and other publicity for Movies Under the Stars), and will serve a great cause.
Contact info: GPMoviesUnderTheStars@gmail.com

Movies Under the Stars 2016 Schedule and info


Games and Activities Club
Time: Noon to 3:00 PM
Second and fourth Thursdays
Place: Glade Park Community Services Building

Do you enjoy card games like hearts, canasta, spades, or board games like Rummikub, Parcheesi, Scrabble and King Oil? How about dominos? A $2.00 donation is requested per meeting.

If there is enough interest an evening time may be added.
Contact: Joyce Owens - 257-9693

Crafters Group
Time: Noon to 300 PM

First and third Thursdays

Place: Glade Park Community Services Building



Free Lending Library
Bring a book, take a book.
Saturdays
Time: 9 AM to 4 PM

Thursdays
Time: Noon to 3 PM

Place: Glade Park Community Services Building



---
Do you have a community event to add, or need more information about an event?
---
You are right to hate cardio! Find out why it is killing you and what you need to do instead!