Glade Park Blog
Do not miss out on the evolution of glade-park.com! We are a work in progress, and whether your interest is past history and/or present community life, know when to come back for another look! The blog is frequently a link to the latest addition to the website, a community event, changes to an existing page, or introduction of a new page.

LEARN HOW TO KEEP YOUR EAR TO THE GROUND! Look for the box on the left at the bottom of the navigation column that says Subscribe To This Site, and pick the way you want to receive your updates. If you want to learn about how to subscribe, click on: ?


Aug 27, 2015
2015 Coates Creek School Pancake Breakfast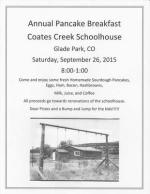 Fundraiser to preserve Coates Creek School: Listed on the National Registry of Historic Places Directions: Drive thru the Colorado National Monument,
Continue reading "2015 Coates Creek School Pancake Breakfast"