There is more to life than just getting by...
Glade Park
Community Services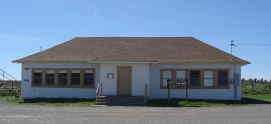 National Register of Historic Places

Pipe Line School (added 1999 - Building - #99000483) Also known as Glade Park Community Building 101 16.5 Rd., Glade Park

The Community Building can be rented for parties, receptions, meetings, etc. Jeanne McLain 263-7486

"Preservation of the Past, Plan for the Future"
2011 Officers and Board
Kandi Wentz: President
256-8960
Jill Pellizari: Vice President
255-9506
Collin Fay: Treasurer
260-6547
Jeanne McLain: Secretary
Building Rental - 263-7486
BOARD MEMBERS:
Joanie Dahlen
Dianne Dinnel
Joyce Owens
Debra Pace
Alternates:
Lynn Grose
Kathy Shipley
Newsletter: Marissa Fay
201-4557
Belle Chesnick: Cemetery Manager
242-0371
Dennis Carns: Arena Manager
243-2469
2009 Annual Spaghetti Dinner Picture Gallery

Roof project is accomplished!
---
The Glade Park Community Services organization maintains and manages the Community Services Building and the Glade Park Cemetery, and manages the Glade Park Post Office. They also put on several annual events to raise funds, and provide social interaction for the community. See Community Events page for schedule. Board members are elected at the Annual Meeting, which is in January. The Board then elects it's officers.

---