Glade Park Community Services
"Preservation of the Past, Plan for the Future"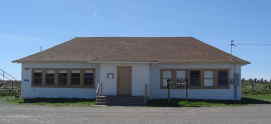 Listed on the National Register of Historic Places Pipe Line School (added 1999 - Building - #99000483) Now known as Glade Park Community Building, 101 16.5 Rd., Glade Park
The Community Building can be rented for parties, receptions, meetings, etc. Please use Contact info  for Dena below to request rental of the building, or use the contact form on this page:      
Glade Park Community Services is a non-profit organization that was formed to maintain and manage the Community Services Building (formerly Pipeline School House). As time passed it also assumed management of the Glade Park Cemetery, and maintenance of the Glade Park Post Office kiosk. GPCS also has several annual events to raise funds, and provide social interaction for the community. See Community Events page for schedule. Board members are elected at the Annual Meeting, which is in January. The Board then elects it's officers. (See GPCS Board below)

If you are interested in being a GPCS member, renting the building, buying a lot in the Glade Park cemetery, buying advertising in the quarterly newsletter, or any other questions see board contact info below.
2018 Officers and Board
Formatting of contact information has been altered to preserve web privacy. See guide below to translate it.
Jeremy Carns - President: 1846 589   carnsclan5 at Hotmail dot
Sam Branham – Vice President: 7094 250    samjbranham at gmail dot com
Danni Langdon -  Treasurer: 9829 245      glade1 at peoplec dot com
Dena Bigum – Secretary (building rental):  0775 241    gladeparkd at gmail dot com
Myron Cluff – Building Maintenance: 8622 210    Myron dot cluff at yahoo dot com
Dennis Carns - Arena Manage:  2469 243    
Belle Chesnick  - Cemetery Manager: 0371 242       bchesnick2 at outlook dot com
Kathy Shipley – Board member: 1440 250    cathyshipley at gmail dot com
Miranda Lawson – Board member:  8459 257    beenmilkin at gmail dot com
Laurie Frasier - Newsletter  6825 208  gpcsnewsletter at gmail dot com

Contact information has formatting changes to protect it from web scrapers.  
They are pretty easy to de-code, but here is a guide:  All area codes are 970 and the 3 digit and 4 digit parts are reversed.  241-2468 becomes 2468 241
Email addresses use at instead of the symbol, dot instead of the period and have spaces added.
---
A look at past GPCS events:

2009 Annual Spaghetti Dinner Picture Gallery

Pictures of the Roof Raisin'