Glade Park
Community Services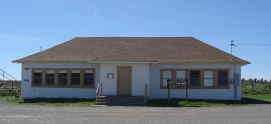 Listed on the National Register of Historic Places

Pipe Line School (added 1999 - Building - #99000483) Also known as Glade Park Community Building 101 16.5 Rd., Glade Park

The Community Building can be rented for parties, receptions, meetings, etc. Contact: Susan Bilbo (970) 712-9715 jsbilbo@q.com



"Preservation of the Past, Plan for the Future"
2014 Officers and Board
President
Roger Dingman
(h) 263-4803 dingmanr@aol.com

Vice President
Travis Reese
(h) 261-0525 travis_reese@msn.com

Treasurer
Danni Langdon
(h) 245-9829 glade1@peoplepc.com

Secretary/Newsletter

Membership Chairman
Ileen White
( c) 562-310-0297 ileen_white@yahoo.com

Rentals Manager
Susan Bilbo
( c ) 712-9715 jsbilbo@q.com

Facilities Manager
Greg Mundorf
(h) 245-8408 gmundorf7@gmail.com

Arena Manager
Dennis Carnes
(h) 243-2469 (c) 250-2427

Cemetery Manager
Belle Chesnick
(h) 242-0371 mir@wic.net

Post Office Liason
Deb Trotter
(h) 263-9362 (c)216-9116

GladePark.com webmaster
Deb Moorland DebsWebWorks@gmail.com

Board Members

Myron Cluff (h) 210-8622 myron.cluff@yahoo.com
Sandra Simms (h) 985-1377 flyingsgp@hotmail.com

---
2009 Annual Spaghetti Dinner Picture Gallery

Roof project is accomplished!
---
The Glade Park Community Services organization maintains and manages the Community Services Building and the Glade Park Cemetery, and manages the Glade Park Post Office. They also put on several annual events to raise funds, and provide social interaction for the community. See Community Events page for schedule. Board members are elected at the Annual Meeting, which is in January. The Board then elects it's officers.
---
In an uncertain world it pays to have a back-up plan... a source of income that depends on your own initiative and diligence, rather than the whims of an ever shifting job market. Do not pre-judge. It will stand up to scrutiny. Your contact info will not be used for any other purpose than to answer your questions and provide the info you need to make an informed decision. If you decide you do not want further info your wishes will be respected.
---