Glade Park
Community Services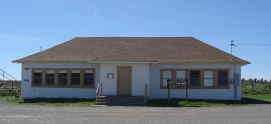 Listed on the National Register of Historic Places

Pipe Line School (added 1999 - Building - #99000483) Also known as Glade Park Community Building 101 16.5 Rd., Glade Park

The Community Building can be rented for parties, receptions, meetings, etc.
At this time contact Jeremy Carns.
carnsclan5@hotmail.com Cell: 970-589-1846




"Preservation of the Past, Plan for the Future"
2017 Officers and Board
President
Jeremy Carns carnsclan5@hotmail.com Cell: 970-589-1846


Board Members
To be announced
---
2009 Annual Spaghetti Dinner Picture Gallery

Pictures of the Roof Raisin'


---
The Glade Park Community Services organization maintains and manages the Community Services Building and the Glade Park Cemetery, and manages the Glade Park Post Office. They also put on several annual events to raise funds, and provide social interaction for the community. See Community Events page for schedule. Board members are elected at the Annual Meeting, which is in January. The Board then elects it's officers.
If you are interested in being a member, renting the building, buying a lot in the Glade Park cemetery, buying advertising in the quarterly newsletter, or any other questions use contact info above.
---