Glade Park and Piñon Mesa, Colorado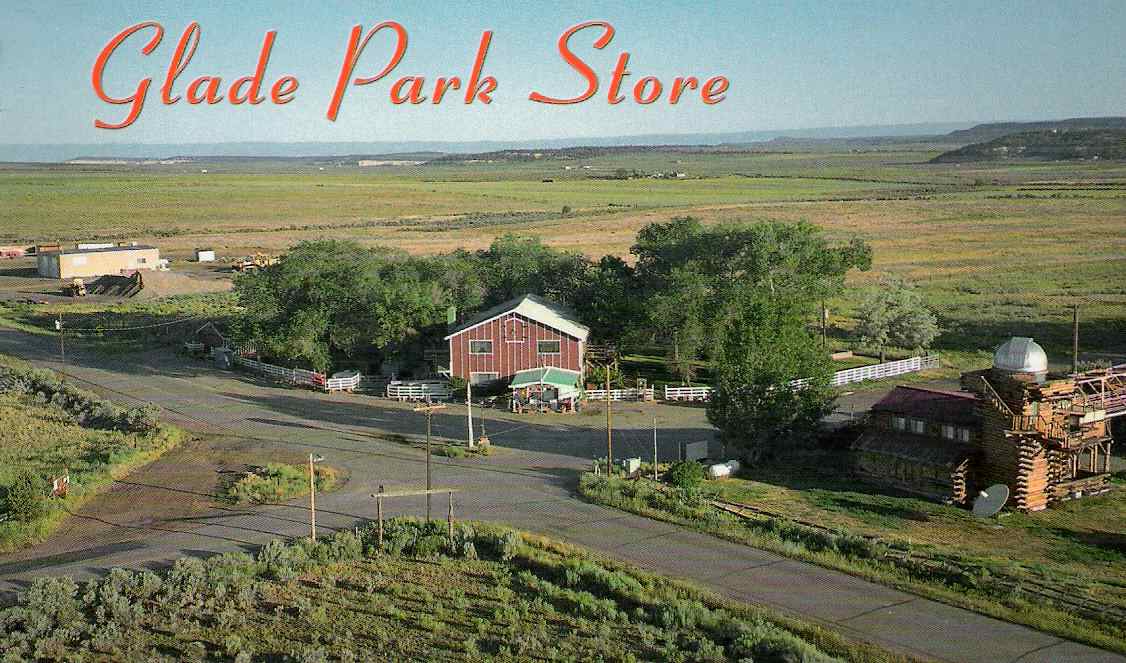 Photos and content © glade-park.com 2006-20010

PARKIN' IT! IN THE PRESENT AND THE PAST
For the most current news on Glade Park/Pinon Mesa, go to Glade Park Blog. Subscribe to the RSS feed and you will be notified when anything new is posted on the blog.

Glade Park is "the journey, not the destination!" No matter which of the three routes you take to get to Glade Park, you will wind through sand rock switchbacks, with spectacular views, as Grand Junction becomes a miniature maze below. After dusk the view twinkles like a sea of living jewels. A glade is an open space, in this case, surrounded by natural wonders: Colorado National Monument, Piñon Mesa (with a chunk of Grand Mesa National Forest), and McInnis Canyons National Conservation Area.
If heights bother you, or you are expecting luxury accommodations ...or any accommodations at all, when you arrive at Glade Park, you should head for Aspen instead. We have no motels, or restaurants. Your cell phone probably won't even work, unless it is Verizon.
You know you have arrived when the road levels out and you reach a crossroads where you find a bizarre looking log house with an observatory tower, and a pink antique iron bridge crossing from an upper deck to the roof of a detached garage. Other less unusual evidence of civilization consists of the Glade Park Store, a post office, and the Glade Park Community Building, formerly known as Pipeline School (Register of Historic Places).

There is also a volunteer fire department. On summer Fridays, the Glade Park Volunteer Fire department presents "Movies Under the Stars", to raise funds for the serious business of putting out fires, and emergency response. It isn't just a local event. Hundreds load up their families and drive up from Grand Junction to cool off and eat at the grill and watch a family movie under stars that are bright and plentiful.
But this cluster of buildings is not the sum total of Glade Park. We are also the surrounding community. We are the history of things past, the remaining ranches, the alumni who return on pilgrimages, and the newcomers (a newcomer is someone who arrived after you did).
Most residents live on 35 to 40 acre plots, and commute to Grand Junction for work, groceries, auto parts and other necessities. Compared to a lot of places in Colorado, change has been slow. And the residents like it that way.
In the beginning it was Big Park, but, in 1910 the first postmistress, Jennie M. France, was told by the USPS that there were already too many towns by that name, so she came up with Glade Park. That is about the time my family arrived. There is some turbulent history here, involving shootings, moonshine, disagreements between sheepmen and cattlemen... More about that later.
JOIN THE GLADE PARK RSS/BLOG to follow our progress. It is easy, and you will know when to come back for the latest information. There is a lot more to come: history, community events, post office news , noxious weed information, and more. Use the GP Forum, or Contact Us to give your input! GP businesses get a FREE LISTING in the GP Marketplace! Other businesses get a bargain to build goodwill on in this community.
I grew up on a Glade Park ranch. I know what some of you locals are thinking. I thought long and hard about this. I decided that we cannot completely stop progress, and it might as well be someone with deep roots here to approach this respectfully. Yeah, this may attract some attention, but I do not plan to make it a hard sell for development. It's happening, so maybe this can help us direct it to some extent, and help record and preserve the spirit of "The Park." Let me know what you think!

Find out how a low techie built www.gladepark.com! You too can build a website about your hobby, or to promote your business!

Glade Park Blog lets you keep your ear to the ground on what is happening at www.glade-park.com.
Read and report Glade Park current news and information
Good times, good causes, the meaning of community!
Family friendly movies under a cool blanket of stars, with FOOD and pre-show entertainment.. Benefits Glade Park Volunteer Fire Department.
From range fires to car accidents, the all-volunteer fire department comes to the rescue, then fund raises with "Movies Under the Stars."
"Classic Western Quarrel" Continues. Latest episode...
The Saga of How a Rural Post Office Survived
Guide to Glade Park/Pinon Mesa area hunting, fishing, camping, ATV trails, horseback trails, and scenic wonders!
In memory of Glade Park & Pinon Mesa pioneers and residents
Find a sourvenir, a book on local history, or some other treasure.
Glade Park Community Services - the heart and hands of the community.
The Glade Park Store has served the community since 1907.
The warning labels on rural living on Glade Park
Learn about Glade Park and Pinon Mesa from local authors.
Glade Park's country church services and news
Glade Park Utilities and other essential services
Coates Creek School Cookbook: old family recipes to preserve a historic one room schoolhouse.
Contact glade-park.com
glade-park respects the privacy of our visitors