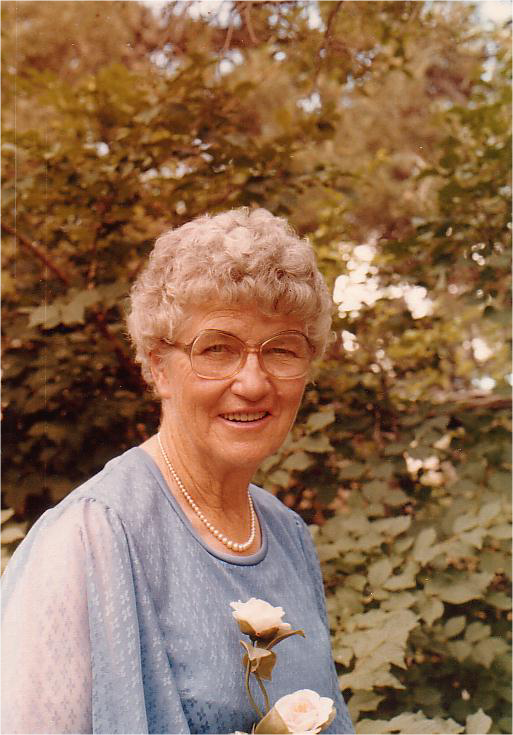 This is only a snapshot of my Mom, Viola Gertrude Woodworth Holloway, known to her  friends as Vi.  She was born to Willliam and Gertrude Woodworth June 16, 1915, the second of ten siblings.  She saw many changes in the 100 years that God blessed her with, most of which was lived at Glade Park.  Her Grandfather, Charles Bowman, was the first ranger at the Fruita Preserve on Pinion Mesa when her mom was growing up.  He also homesteaded 3 miles north of the store, which later became known as the Terrell Place.
Vi's parents moved to the Valley for a time, but returned to Glade Park when Vi was 8 years old. It was a country of farming, sheep and cattle ranches.   Her Dad worked on many of the ranches, and their first home was on the Luice Moore ranch at the end of the canyon where the Little Delores and Paine Creek join. They got all their water from the creek, and food that needed to be refrigerated was kept in the cold water of the creek, no electricity in those days. 
While her older sister, Lucille, helped with the home and raising the younger siblings, Vi became her Dad's "ranch hand."  It was that experience that instilled in her a love of the outdoors and ranching.  During her growing up years she has fond memories of spending time with her godly grandparents who instilled in her a desire to know God.  Many of those who know her will attest to her loving, trusting relationship with God through Jesus Christ that began to develop in those early years.
It was at the Moore place that Vi raised her first of many gardens.  Her parents gave her a little plot of ground, a couple of cabbage plants and some vegetable seeds.  She remembers them helping her plant, but she doesn't remember hoeing the weeds and wonders if they also helped her by hoeing.
Vi didn't run to the bus stop for a ride to school.  It was an eight to ten-mile horseback ride.  Vi says that she often slept on the back of the horse as they made their way down the mountain and canyons on their way to school at either Coates Creek or Sleeper (also known as Little Delores). In winter it was cold riding and the snow was often quite deep.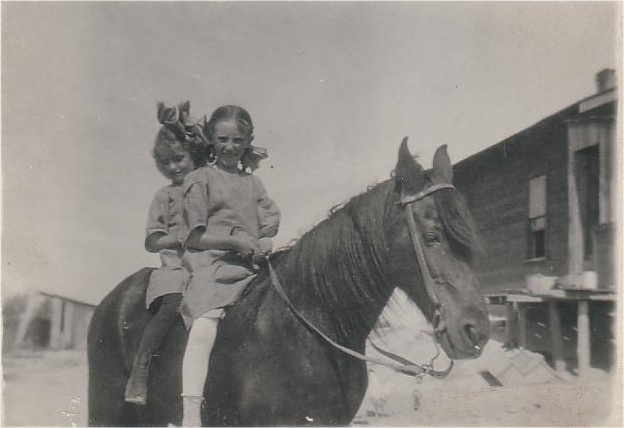 Vi and Lucille Woodworth on their way to school.
When they moved to the Lane place they lived in a little log, two-room cabin that leaked.  Since her Dad used a team of workhorses, they used the waterproof horse blankets at night to cover themselves. It seemed to rain a lot that summer, but the blankets kept them nice and dry while they slept.
It was not all work and no play, her dad made three pair of stilts, one pair each for Vi and two of her brothers. They pretended that they were on horseback and they made a myriad of "horse" trails through the sagebrush. 
At the Madden place they lived in a one-room rock house dug into the hillside, at the back of the room was a cellar dug further into the hillside.  There wasn't much floor to keep polished as there was only flooring under the cook stove.  Vi's not sure why there was floor only under the stove. They built a loft where the children slept, with the parents sleeping down below.  In the summer they pitched a tent and slept outside. 
Vi  remembers making a trip to Grand Junction.  She and another sibling were loaded in the wagon, pulled by a team of horses, and her Mom took them down the Serpents Trail.  She doesn't remember the trip down, just the trip back.  Coming back up the Serpents Trail she and a cousin, who came back with them, walked, cutting across the curves and then meeting up with the horses on the next curve.  Vi says that she was not as adventurous as her Mom was to make that trip with her children. Maybe her definition of adventurous is different than mine—One night she heard noises at the back door.  Getting out of bed and opening the back door she discovered a bear eating the cat food.  She waved her hands at him and told him to "get out of here."  Me, I would have made a fast retreat.   When mountain lions began visiting her sheep corral for dinner, the trapper warned her not to go out at night, but her reply was "God will take care of me."
Vi met her future husband, Nova Holloway when she was twelve.  Sometime between 1915 and 1919 he homesteaded a place in Road Canyon  (now called DS Road). His cabin was still standing the last time I was there.  The property was later purchased by Glen Gore.  Anyway, Vi had her heart set on having a violin and was selling Rosebud Salve in order to earn the violin.  One day while she was out "marketing" she met Nova coming across a field in a wagon pulled by a team of horses.  She must have made a good sales pitch because he bought all she had.  She got the violin, but the only song she learned to play was "Red Wing."
 One winter her Dad was staying and working at the Moore ranch so he asked Vi to stay home and feed the cattle on the Madden ranch.  Vi would take a team of horses and a bobsled down to the Moore place where her Dad would help her load the hay on the bobsled, then she would return with her load to the Madden place and feed the livestock.  One place was so slick that the team of horses climbed the hill on their knees, at least it appeared that way to her.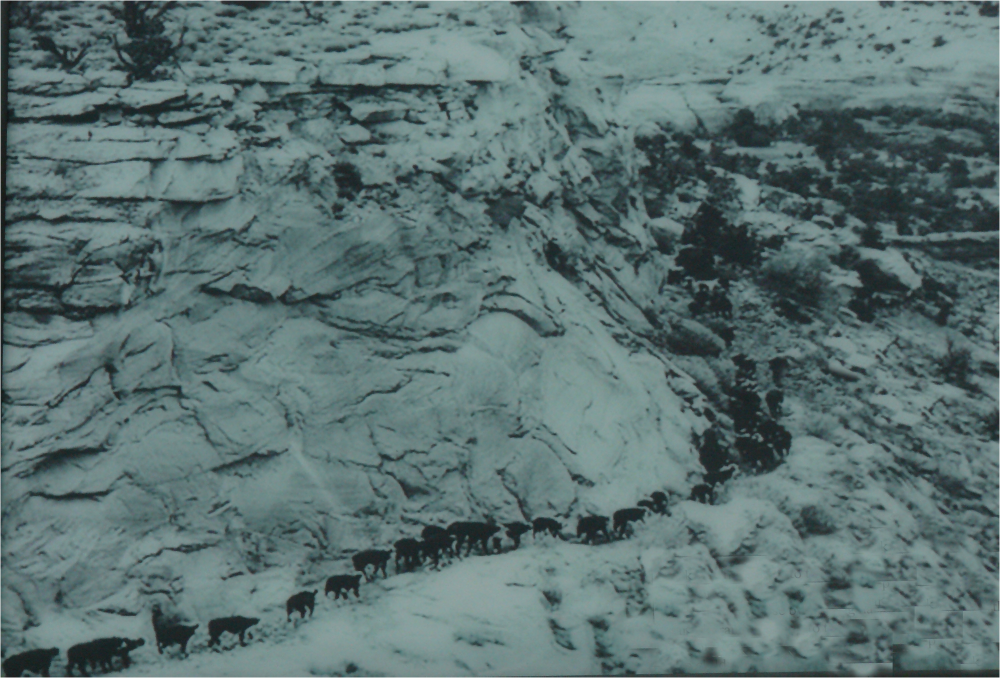 Even though Vi claims not to be very adventurous, when she was 15 she wanted to go to the rodeo in Fruita.  So she mounted her trusty horse and her Dad took her as far as the old Fruita Road which goes over the east end of Black Ridge and then continues on down to the old Dug Way. This was the original route through the Colorado National Monument.  After the Rim Rock Drive was built the old route was used to drive livestock to and from the valley to the summer pastures on Glade Park and Pinion Mesa.  (As one travels from Fruita to Glade Park they can still see the Dug Way from one of the view points.)  Later the Dugway was used for cattle (The Dugway can be seen from overlook on West entrance on Rim Rock Drive)
As her Dad sent her on her way he told her that when she got ready to come home to let her horse have his way and he'd bring her home.  She failed to do this and got lost.  It was dark when she finally made it to the foot of Black Ridge in the large flat where Kenneth Thompson and Irving Beard later pastured their sheep.  She remembers hearing in the darkness the welcomed, booming voice of her Dad shouting her name.  All her Dad said when he found her was "You didn't mind me and let the horse have his way."  After her harrowing experience she told him that "You could give me this whole place and I wouldn't have it!"  Well we all know how true that was!  She lived in, and loved this area for most of her 100 years.
After missing a few years of school while working with her Dad, Vi was 16 when she finished eighth grade.  That school year she went to live with her sister and brother in-law, Lucille and Albert Holloway.  She graduated from Pipe Line School as Valedictorian of her eighth grade class and had the honor of making a speech.  Lucille and Albert bought her a new dress for the occasion.
Dances were often held at the Pipe Line School (I'm not sure what they were like back in my parent's early years, but as a child I remember the next morning seeing those who couldn't make it home still sleeping it off).  Anyway, Vi  kept begging Nova to take her to the dance, so one day he gave in and took her.  She says he walked her in one door, guided her across the floor and out the other door.  She says she never asked him to take her to another dance. 
 When Vi was 17, she and Nova were married on March 18, 1933.  His family had worked together to build them a house where they lived until November, 1943 when it was destroyed by an early morning fire.  They were thankful to escape with their most prized possessions, their four children.  The youngest, my brother, was 5 months old.  We lived in a tent while my Dad put a floor in the garage and we lived there until he had the current house finished enough for us to move into on Mother's day 6 months later.