In an uncertain world it pays to have a back-up plan... a source of income that depends on your own initiative and diligence, rather than the whims of an ever shifting job market. Do not pre-judge. It will stand up to scrutiny. Your contact info will not be used for any other purpose than to answer your questions and provide the info you need to make an informed decision. If you decide you do not want further info your wishes will be respected.
Glade Park Movie Location
"The Lucky Ones"
Formerly "The Return"
Portions of "The Lucky Ones" were filmed on Glade Park, and the Colorado National Momument.



Trailer: Warning - adult content - which prevented it from ever being shown at GPVFD Movies Under the Stars, which is a family friendly venue. It is what it is. It created a little excitement while it was being filmed.
Unfortunately the trailer does not appear to have any obvious footage from Glade Park unless it is this shot showing the timber going through the car. The full length movie was still available on Amazon when I checked.
---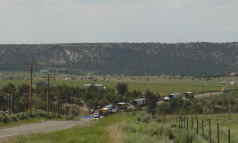 UPDATE - Oct. 26, '08
October 6, 2008 issue of TIME magazine contains a review of "our" movie, now titled "The Lucky Ones", and it's not good...

..."Back from Iraq, three soldiers-a career Army man (Tim Robbins), a cute hillbilly (Rachel McAdams) and a guy made impotent by shrapnel (Michael Pena)-take the life lessons all road movies must provide. Each plot turn is predictable, but this awful film still has secrets: Why was it made? Why is it played as comedy? And who'd benefit from seeing it?"
Grade: D

Based on that, the question is: Will it come to Grand Junction or will we have to wait for the DVD? Must admit though, it'll have some awesome scenery!

Theresa Janssen
Glade Park Store



UPDATE - Dec. 27, '07 Forum Entry
Thursday, Dec. 27, 07 - Hey Aunt Deb! I was looking over the site again, cause it had been awhile. I was reading about the movie shot on Glade Park and so I looked it up on imdb.com. Anyway the name has been changed to "The Lucky Ones" and is set to be released in December 2008. Just thought I'd pass that along.
Rosalyn McConnell
Fruita, CO

Rosalyn, Thanks for the update! I have been wondering why we have not seen "The Return" released yet. You can expect that they might tinker with the name, but I am really curious about why they are waiting so long to release it. It also appears that some very adult content will eliminate it from the family friendly criteria for "Movies Under the Stars."
Deb Moorland
glade-park.com


---
June 14, 2007 - Glade Park is once again a movie location! (Does anyone know the year and the name of the first motion picture that was shot on location on Glade Park?) Pipeline Schoolhouse (aka Glade Park Community Services) can add one more purpose to its multi-purpose resume, as base camp for a major movie shoot. "The Return" stars Tim Robbins, Rachel McAdams and Michael Peña.
The roving reporter for glade-park.com went incognito as a curious local, since reporters were being escorted out. They were shooting along the road, just North of the Glade Park Cemetery. State patrol officers were posted on each end, to keep the crowd back. However, as "the wagon train" of cars built up they had to finally let us through. I went through with my camera cocked, and got off a few shots. Then I turned around and came back through from the other direction. That time I got to pause right at the scene they were shooting, at a burgundy colored car. Of course I couldn't get out of the car to take any close-ups, and they were only preparing to shoot. I had to move on before the cameras rolled again. Anyway, here is an inside look at "The Return", with some information about it. I understand they will be shooting here for a couple more days.

Actors: Tim Robbins (Cheever) : Shawshank Redemption, Mystic River
Rachel McAdams (Collee) : Mean Girls, Wedding Crashers
Michael Peña (T.K.): Crash, Millions Dollar Baby, Shooter

Filmmakers: Neil Burger (Director/Writer/Producer
Dirk Wittenborn (Writer)
Brian Koppelman (Producer)
David Levien (Producer)
Rich Schwartz (Producer)

Genre: Drama

Plot Summary:
"Written by Burger and Dirk Wittenborn, the story revolves around three soldiers -- Collee (McAdams), T.K. (Pena) and Cheever (Robins) -- who return from the Iraq War after suffering injuries and learn that life has moved on without them. They end up on an unexpected road trip across the U.S., with Collee on a mission to bring her boyfriend's guitar back to his family because he saved her life, T.K. seeking confidence to face his wife after a shrapnel injury that threatens his sexual function and middle-aged Cheever planning to hit the casinos in a desperate effort to pay for his son's college tuition" - IMDb Pro

Unfortunatly, my camera was set at a very low resolution, so this is as large as I can go in these pictures without having them break up too badly. I guess I make a pretty poor papparazi. If any of you took pictures email them to info@glade-park.com and I will give you credit for them.


A white popcorn-like substance was scattered on the road. When I asked what it was, they said it was salt-based, and was there to create the illusion that is was raining.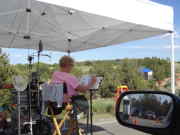 This car is the one the main characters are traveling in. This scene was being prepared for a shoot, but I had to move on before the shooting started.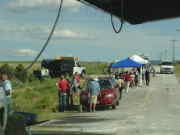 Base camp at Pipeline Schoolhouse (aka Glade Park Community Services Building)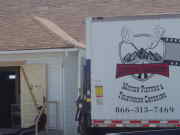 ---